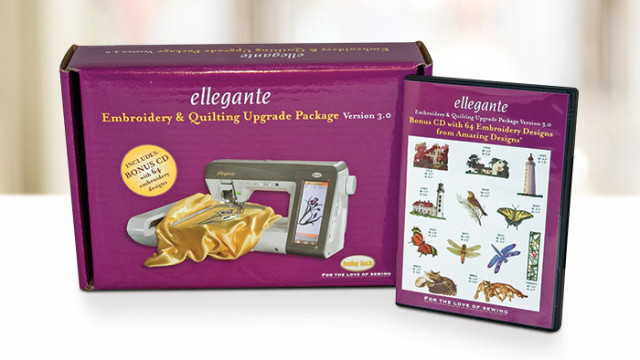 Add even more features to the most advanced sewing and embroidery machine from Baby Lock, with the Ellegante Embroidery & Quilting Upgrade Package. This upgrade package is full of the latest LCD technology, innovative features and new quilting feet. This is a must have for the Ellegante owner.
Upgraded Embroidery Features
Drag and Drop: Change pattern positions ever faster by simply dragging and dropping your selections on the Ellegante
LCD touch screen
Connectivity Using USB Mouse & Hub: Now you can use a mouse to accurately select embroidery patterns, stitches and flip pages on the LCD touch screen.
Color Sorting Borders: Save time and eliminate extra thread changes. By sorting colors, you can embroider the same color in repeated border patterns before moving on to your next thread.
Upgraded Quilting Features
Automatic Fabric Sensor System: This system detects the thickness of your fabrics and continuously adjusts the presser foot pressure for you while you're sewing.
Advanced Pivoting Feature: This feature automatically drops the needle down to hold fabric in place while leaving the foot up to give hands-on control and precision.
3 Free-Motion Quilting Feet
Quilting Foot: Supports fabric when using a straight stitch.
Open Toe Quilting Foot: Increases visibility for decorative and zig-zag stitches.
Echo Quilting Foot: Includes measurements to help create perfect free-motion &stippling; effects.
Bonus CD Includes:
64 designs from Amazing Designs for 4" x 4" hoop or larger. This fun compilation includes a sampling of popular embroidery design collections from Amazing Designs such as Teatime I, Happy Hour, and Lighhouses I.
The Embroidery & Quilting Upgrade Package is only compatible with the Baby Lock Ellegante embroidery machine.
This Package Includes:
An installation Guide and CD containing software and instruction manual.
3 Free-Motion Quilting Feet. Quilting Foot.
Open Toe Quilting Foot.
Echo Quilting Foot.
Bobbin cover with inch measurements for center needle position.
System Requirements:
IBM or compatible computer Windows 98SE, ME, 2000, XP.
CD-ROM Drive.
Available USB port.
Internet access
Read more
MODEL#: BLG-UPG
Additional Product Details
-+
FromTo Love List