How to Embroider a Stocking By Patty Marty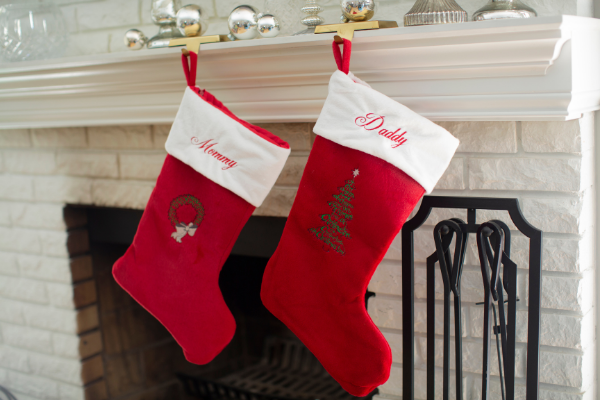 Materials
To get started for embroidering a name or design to a stocking you will need a few supplies.
Embroidery Buddy™ Stocking or Store-bought stocking of choosing
Spools of Madeira Rayon or Polyester Embroidery Thread in Various Colors
5" x 7" Embroidery Hoop
Embroidery Design(s) of Choice (Holiday Lingo (ADC-218) from Amazing Designs was used)
Font of Choice (built-in or purchased font)
Adhesive Spray (to use with Tear-Away Stabilizer)
Pins to secure the stabilizer (optional)
Marking pen
Tutorial
Now that you have all of your supplies let's walk you through how to embroider a stocking.
Hoop the stabilizer of choice into the 5 X 7 hoop. Due to the nature of this item float the stocking vs. hooping the fabric.
Mark the center of the stocking front.
Unzip the stocking roll down or seam rip the side of the stocking so that it can lay flat. Position along the length of the hoop.
In order to secure the stocking and keep it from moving during embroidery. You can use some pins to corner the area.
Place the hoop onto the machine.
Transfer the designs onto a USB stick.
In the machine retrieve the design from the USB stick.
Position the design to align with the placement marked on the stocking.
If your machine has an option to add a basting stitch add this around the design.
Place the hydro-melt topping over the stitching area. The basting stitch will help hold this into place.
When ready to stitch touch Embroidery and Start/Stop.
Once finished sewing remove hoop from your machine.
Gently remove the basting stitches and topping. Follow the topping instructions for how to remove the excess hydro-melt.
Remove the stocking from the stabilizer.
Add a name to the cuff by following the same floating and marking technique.
When completed simply zip the stocking front and back together. If you removed some of the side stitches flip the stocking inside out and stitch the side closed using a matching color thread to the fabric.
Printable Version Available Here
Includes step-by-step photos and the tutorial.
Download Here