How-To

Inside Out Embroidery!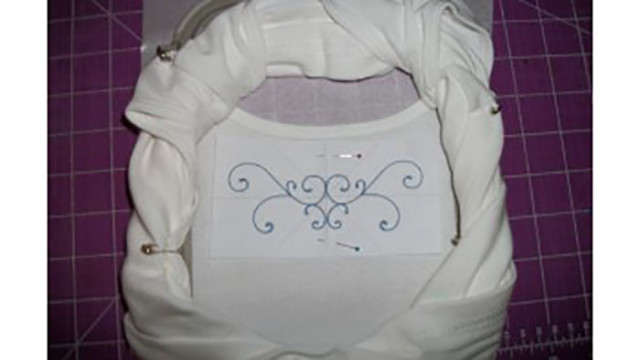 Turn it inside out?
You betcha!
Seriously, you turn your tee shirts and tote bags inside out to embroider?
Absolutely!
Some don't have the luxury of a professional six needle embroidery machine, or maybe you just prefer the sewing and embroidery combo that has a flat bed embroidery unit. Nothing wrong with that, but some items are just plain harder to hoop in these instances.
Small tees, totes, and other miscellaneous items can be easier handled if you turn them inside out. Let me share an easy technique that I have used recently.
Mark your shirt or bag where you want the design placed. The best method I have found is to print a template using a design catalog software like Designer's Gallery Studio Plus, or a digitizing software like Masterworks II or Masterworks Lite. Make sure the template is printed actual size, then either pin or lightly adhesive spray it to your garment where you want it to be placed.
Use a sticky backed interfacing on your hoop (be sure to check your hoop for the right tension first-adjust your screw so that the garment fits snugly but not tight enough for hoop burn.) Now, stretch your sticky back all the way to the edges of your bottom hoop, creating a trampoline for the item you are hooping. I usually mark the center of the sticky back with ink pen or pencil so I can find my center mark.
Carefully turn your item inside out, making sure not to move your design template. Working from the center outwards, smooth your garment out onto the sticky, much like you would smooth wallpaper. Attach your top hoop now.

Now that the top hoop and the sticky are holding your item in place, you can stretch the rest of the teeshirt out of the way, using small binder clips or safety pins to secure the item.
Use the trial or trace feature on your machine to ensure you have pulled the excess fabric far enough out of the way.
Embroider! Be careful to watch your machine foot for clearance of all safety pins and clips.
Ta Da! You can now embroider those small items with ease, and no worries of catching a double sided garment on the bottom of the hoop, because it's all out on top! Happy Stitching!