Project

Serger Crochet Witch Hat

Skill Level: Beginner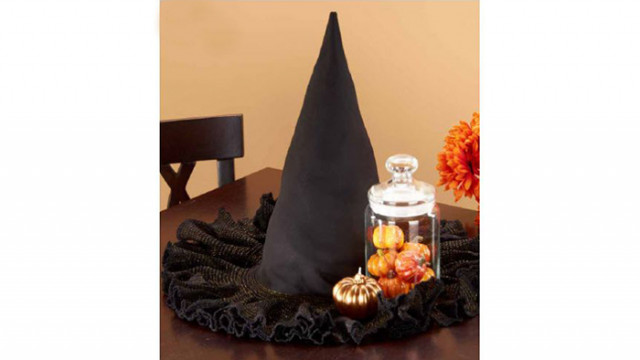 Bewitch your guests with this witch's hat centerpiece! Using your Baby Lock serger, you can easily create this easy and elegant Halloween décor.
Materials:
Black cotton or sports cloth fabric
1 Spool gold metallic embroidery thread
2 Spools 12 wt black thread
4 Spools Madeira® Aerolock Premium serger thread
Poster board or styrofoam floral cone
Tools:
Baby Lock Triumph, Ovation, Evolution, Enlighten or Imagine serger
Steps:
Cut a triangle shape 16" tall x 26" wide at the base for the hat.

Set up the serger for a four thread stitch.

With right sides together serge the long side of the hat together.

Set up the serger for a 3 Thread Wide stitch, Stitch Length: Standard 4, Width 7.5, Needle O, Differential Feed N, Blade Locked, Stitch Selector A.

Thread the metallic embroidery thread through the needle.

Add the serger crochet to the raw lower edge of the witch's hat using the following method

Row 1 - With the right side of the fabric up, serge along the edge of the fabric.Continue to serge until you are at the seam again. Your seam will be the counting mark.

Row 1a - Move the fabric to the left so that the needle will fall in the middle of the previous row. The previous row edge should fall between the needle 1 and 2 marks on the foot.

Row 1b - This row is the base row for your Serger Crochet edge.

Row 2 - Starting at the same place again, serge along the loops catching the loop approximately in the middle. Keep the loops as flat as possible.

Row 2a - Sew approximately 8 rows with this stitch length.

Row 3+ Repeat the procedure for Row 2 except adjust the stitch length to 3.5 and serge four rows. Then continue. We repeated 27 times. Keep the loops as flat as possible.

Final row - Set the stitch length on 1. Serge along the edge of the loop on the last row. This will create a scalloped lace look on the edge of the previous serging.

Note: For a narrower edge, add the final row directly to the base row of crochet. For a wider edge, add more middle rows. Experiment with different thread colors and weights.

To complete the decoration, cut a cone shape from poster board or insert a styrofoam floral cone inside the hat to make it stand up.