Meet Devida Bushrod
Meet Devida Dee Bushrod a self-taught quilter of almost 20 years and the powerhouse behind Pixel Quilts. Originally from Great Britain Dee now resides in Tulsa Oklahoma. There is quilting and then there is Dee's idea of quilting – the pixel quilt. By translating a photo into pixels she creates these one-of-a-kind quilts that are stunning and unique.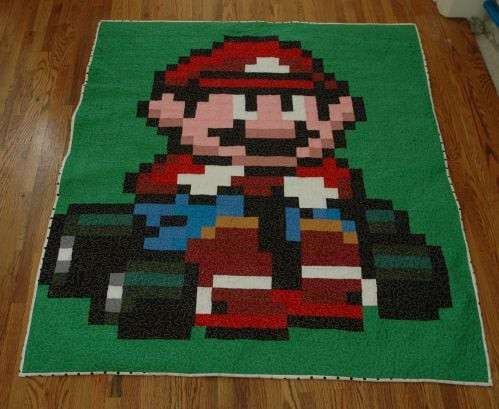 Dee made her first pixel quilt for her nephew in 2008 a Super Mario Quilt. But she did not enjoy the process of making a pixel quilt and didn't revisit this type of artistry until 2021.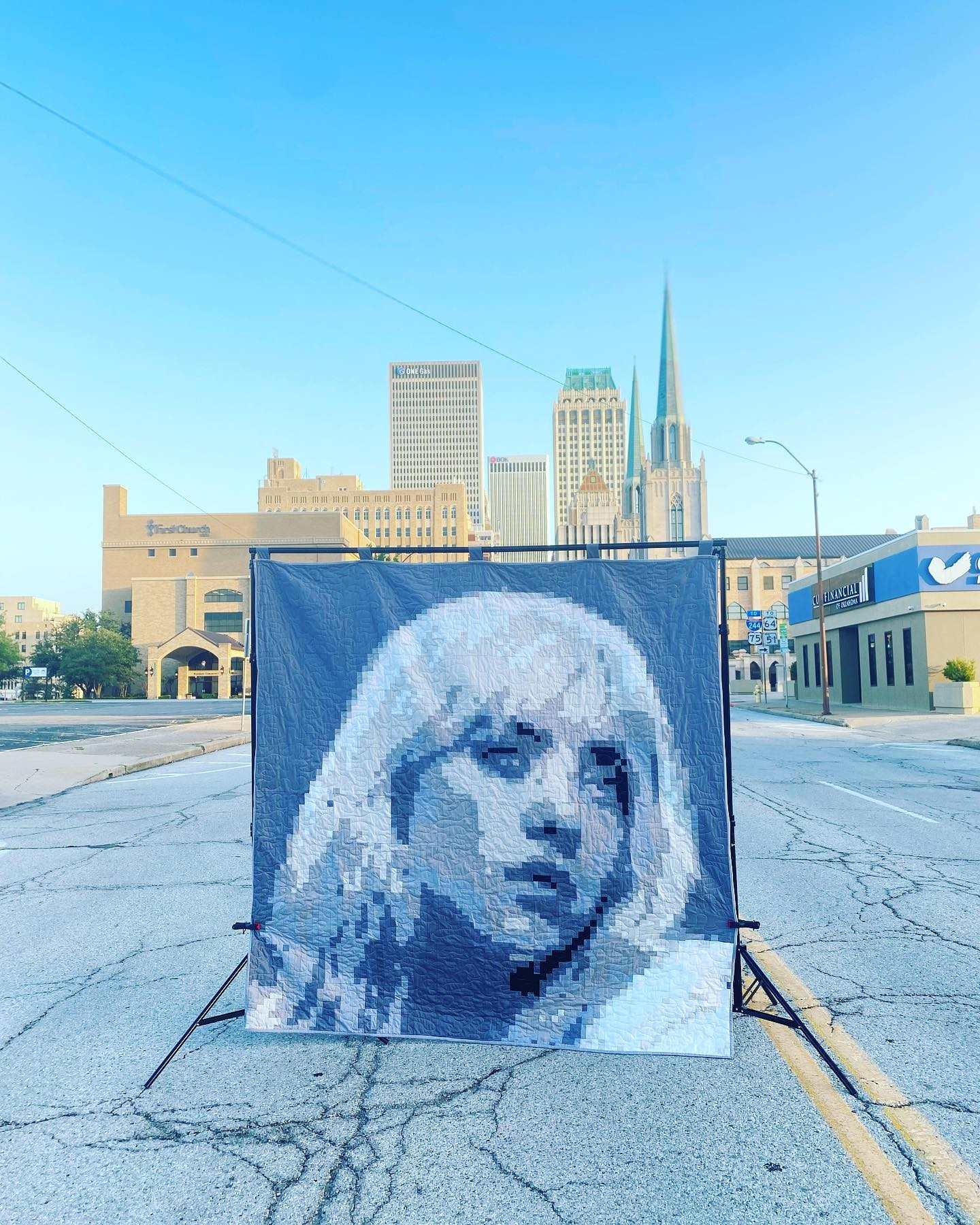 In August 2021 Dee's daughter a self-proclaimed Billie Eilish fan was going to see Grammy-winning artist in concert. To make it a one-of-a-kind experience Dee decided to create her 2nd ever pixel quilt. But this time Dee was surprised at how she enjoyed creating the quilt and this excitement sparked her enthusiasm so she challenged herself to take on a new more tricky subject.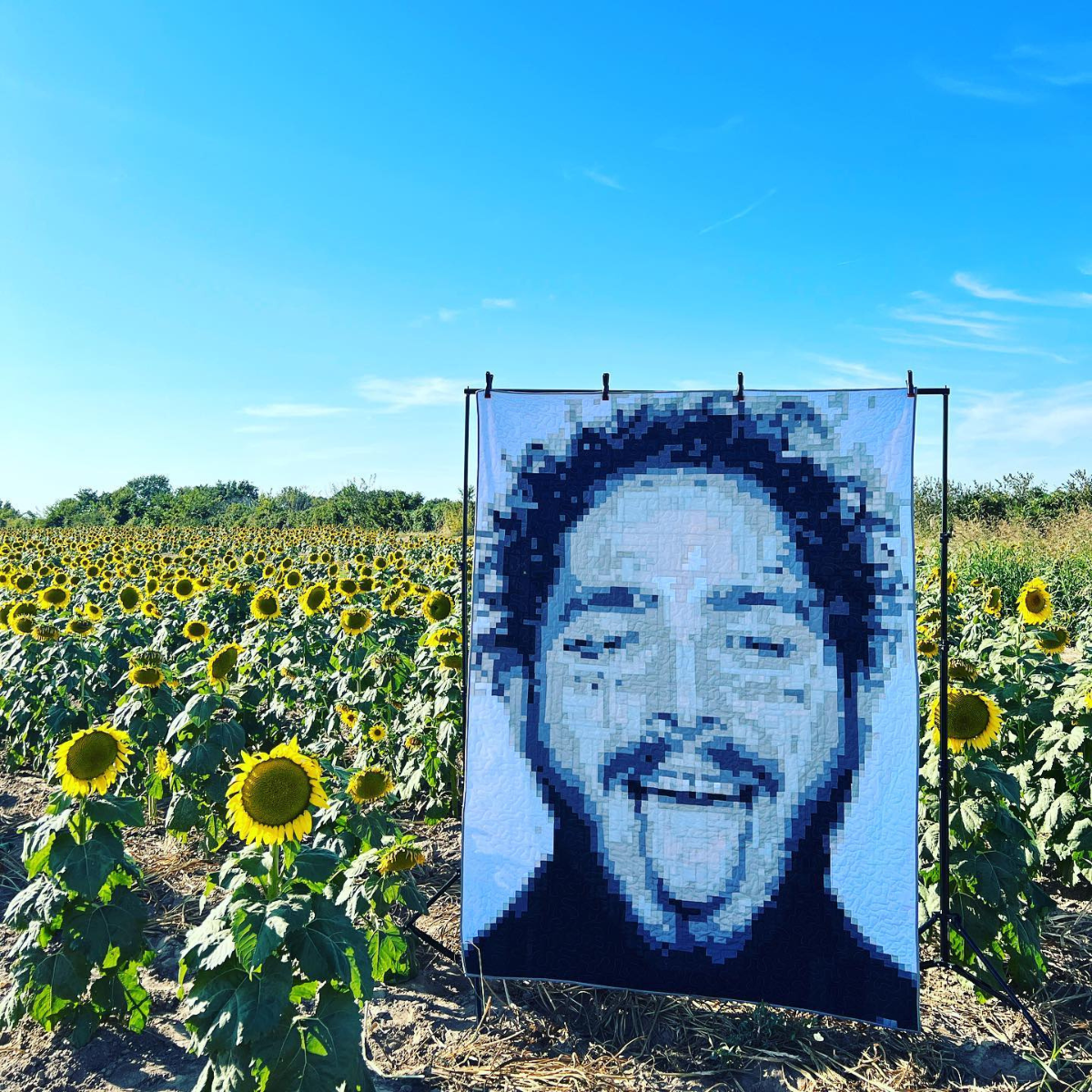 She chose another family-favorite musician Grammy-nominated artist Post Malone. Due to the artist's cosmetic features Dee knew this quilt would take even more careful planning than her previous quilts. She told us that even though it was a lofty endeavor it was amazing how easy the process was once she started and how creating these pixels was like no other type of quilting she had experienced. After completing the Post Malone quilt Dee's son felt a little left out and she decided to make a pixel quilt for him. The 9-foot quilt proudly hangs in her home but it gets put away when guests visit.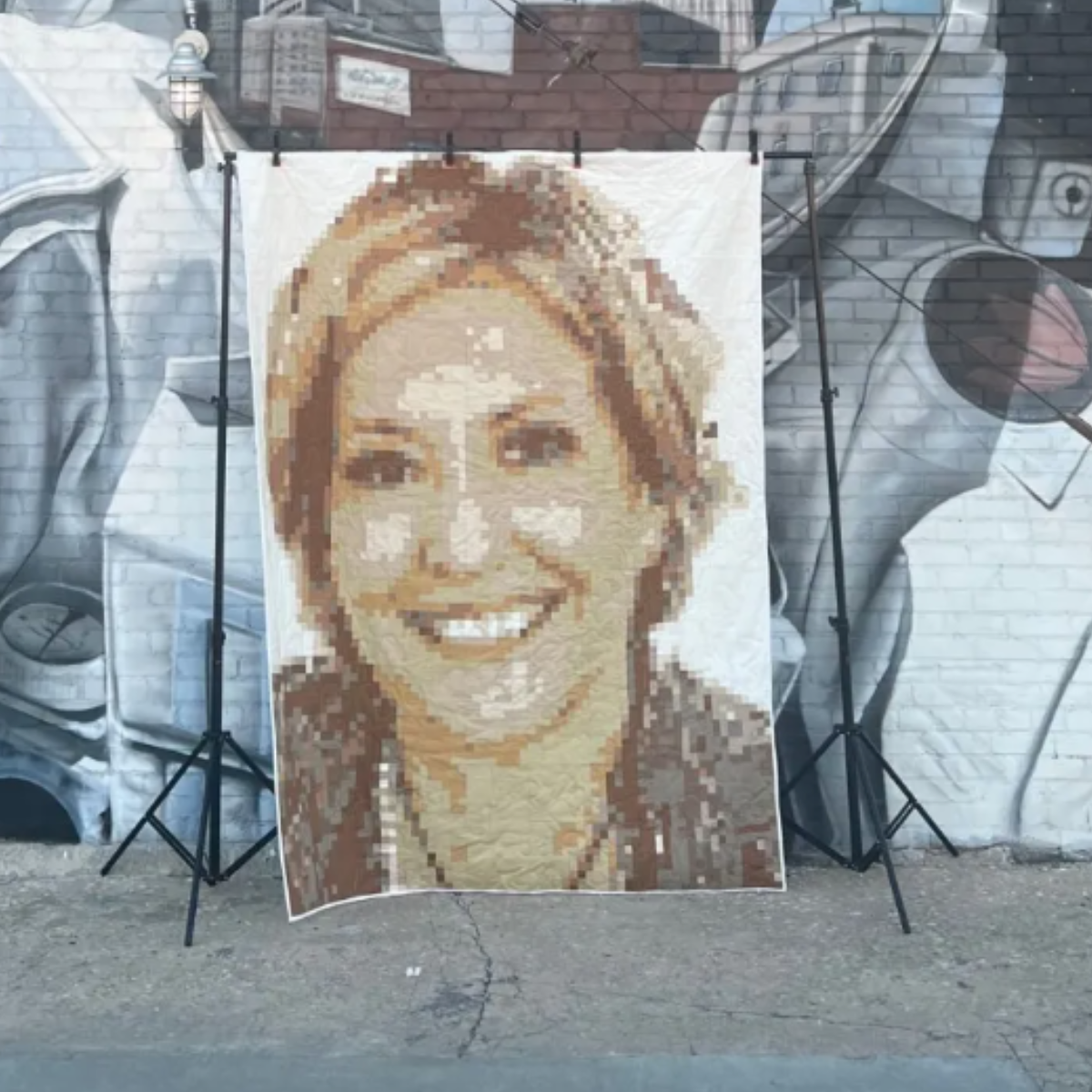 Throughout 2021 Dee shared her quilting process and quilts on Instagram and TikTok and social media did its thing. After posting Dee received an overwhelming response to her quilts. Dee questioned her work - was it a fluke or talent? The praise and admiration around the three-pixel quilts she created grew and soon she had family friends and online strangers asking for commission work. Dee recognized her love for making pixel quilts and had to decide where to take this quilting hobby. In 2022 she decided to only make quilts for herself in order to learn more about this hobby and focus her attention on improving the process. Each month she challenged herself to create a different quilt inspired by a woman who had impacted her life with the intent of gifting the quilt to the woman featured in it. The results are so exceptional and moving and you can check out 12 months - 12 Inspiring Women here.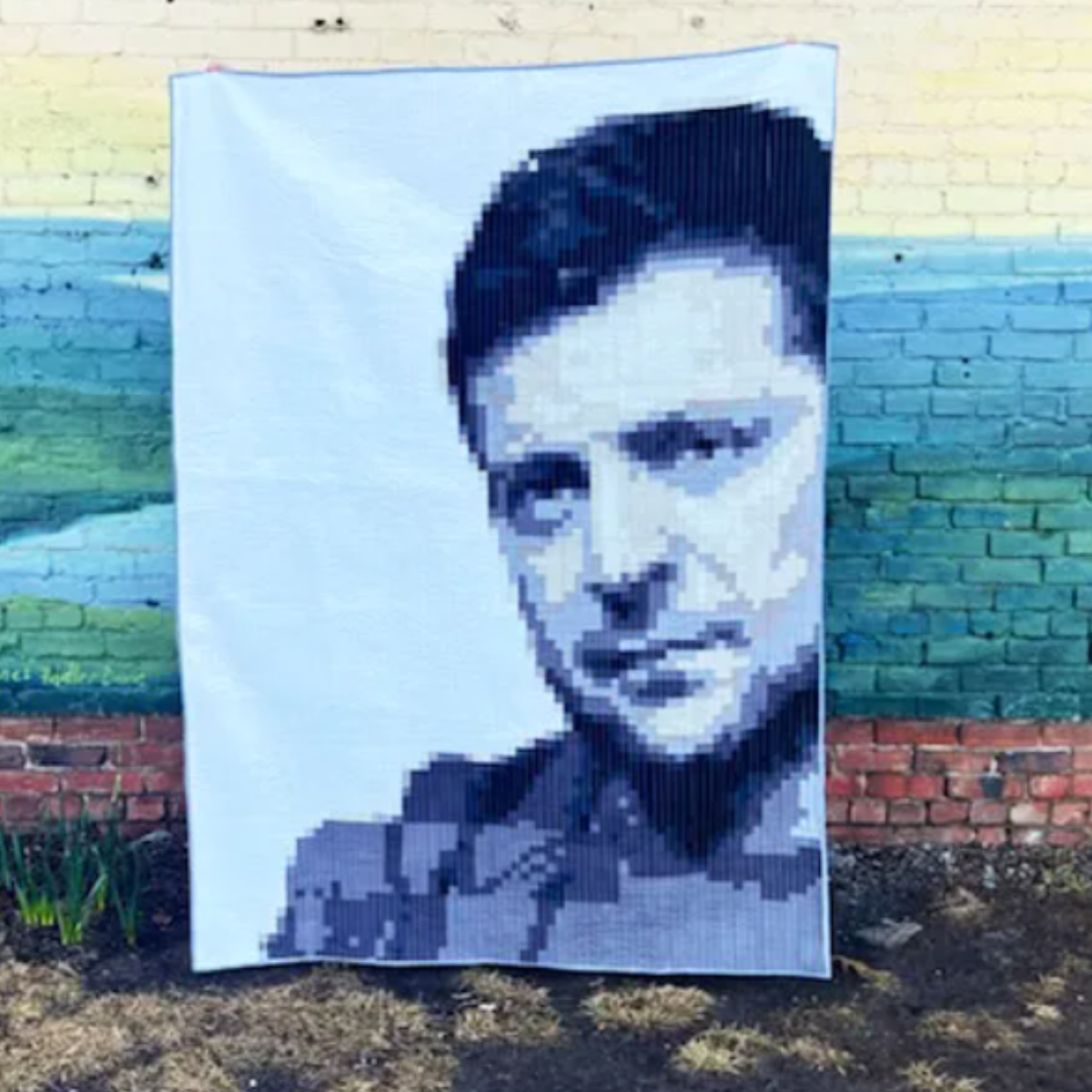 A few months into 2022 Dee took a short break from creating quilts for women she admired and turned her focus on Ukraine. She spent 50 hours making a pixel quilt of Ukrainian President Volodymyr Zelenskyy with the goal of raffling it off to fundraise for UNICEF. The quilt raised $2 993.46. She gained local media coverage and they were shocked to see not only the Zelenskyy quilt but another in-progress pixel quilt featuring none other than Queen Elizabeth II.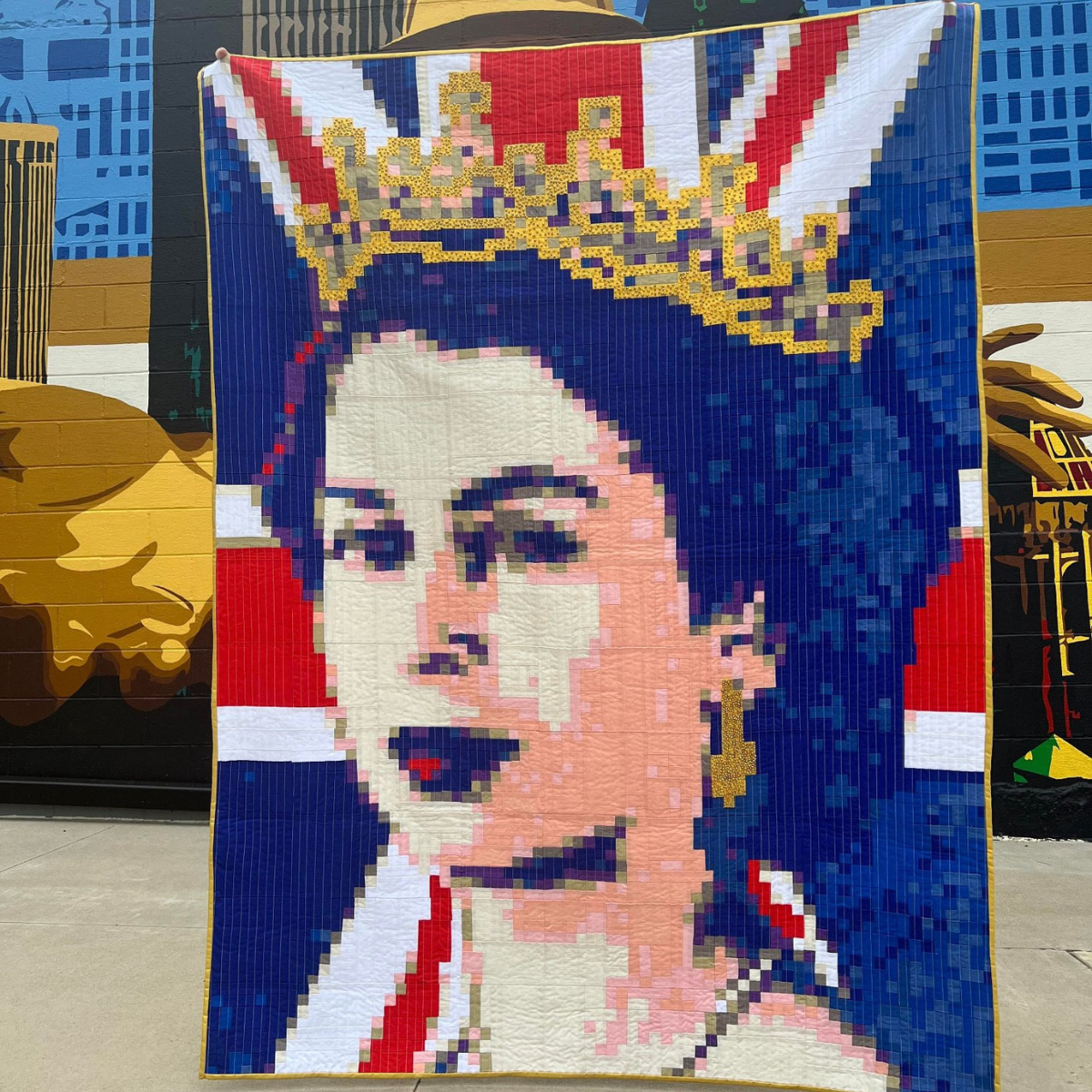 Dee's June quilt for 12 Months - 12 Inspiring Women project held deep roots for her. Born and raised in England Dee has always admired the Queen. In our chat she describes the Queen as a woman of dignity and strength throughout her 70 years on the throne. With the continued celebration of the Platinum Jubilee and the Queen's Birthday parade approaching Dee felt homesick and wanted to celebrate this milestone with her family in her city of Tulsa. After interviews with local Tulsa media stations for her Zelenskyy quilt arrangements were made to return to see the finished Queen Elizabeth II quilt.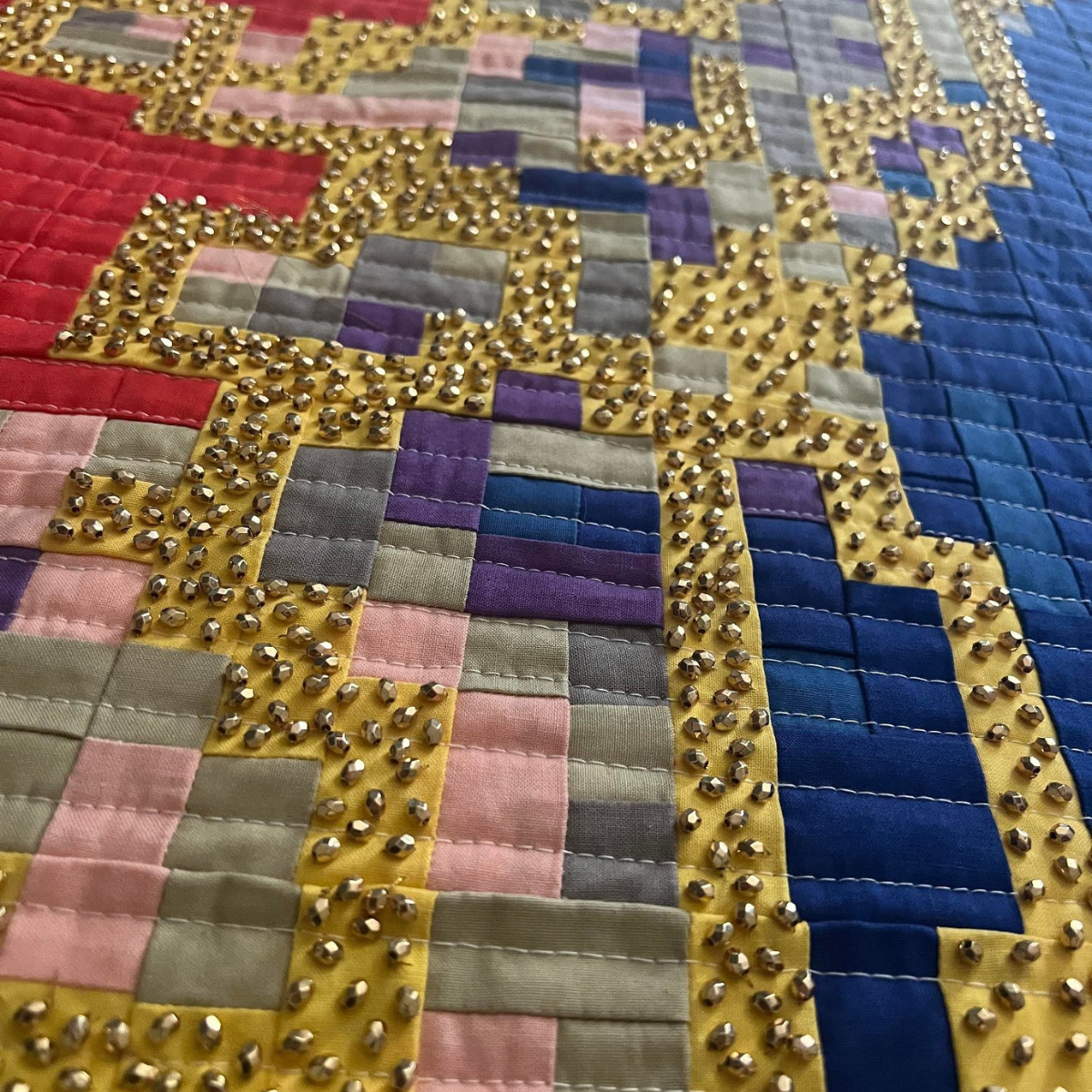 This particular pixel quilt took longer than others to complete. She spent 110 hours from designing to hand stitching the binding. After completing the quilt she wasn't pleased with the crown and opted to add 2 500 gold beads by hand. Dee says this is by far her favorite quilt. It measures 72 x 54 and comprises 2 701 pieces of fabric. In keeping with the tradition of sending the quilt to the woman featured Dee began researching how to send this stunning quilt to Buckingham Palace. She soon discovered that contacting the palace can only be accomplished by letter and they do not accept unsolicited gifts. She opted to write a handwritten thank you letter to the Queen expressing her admiration and gratitude to Great Britain's longest-reigning monarch. Dee also included photos of the quilt and described her desire to send the quilt. The letter was sent in May with the hopes of it making its way to Buckingham Palace and garnering a positive response.
Fast forward a few months later the Queen's Platinum Jubilee had come and gone and Dee received a letter!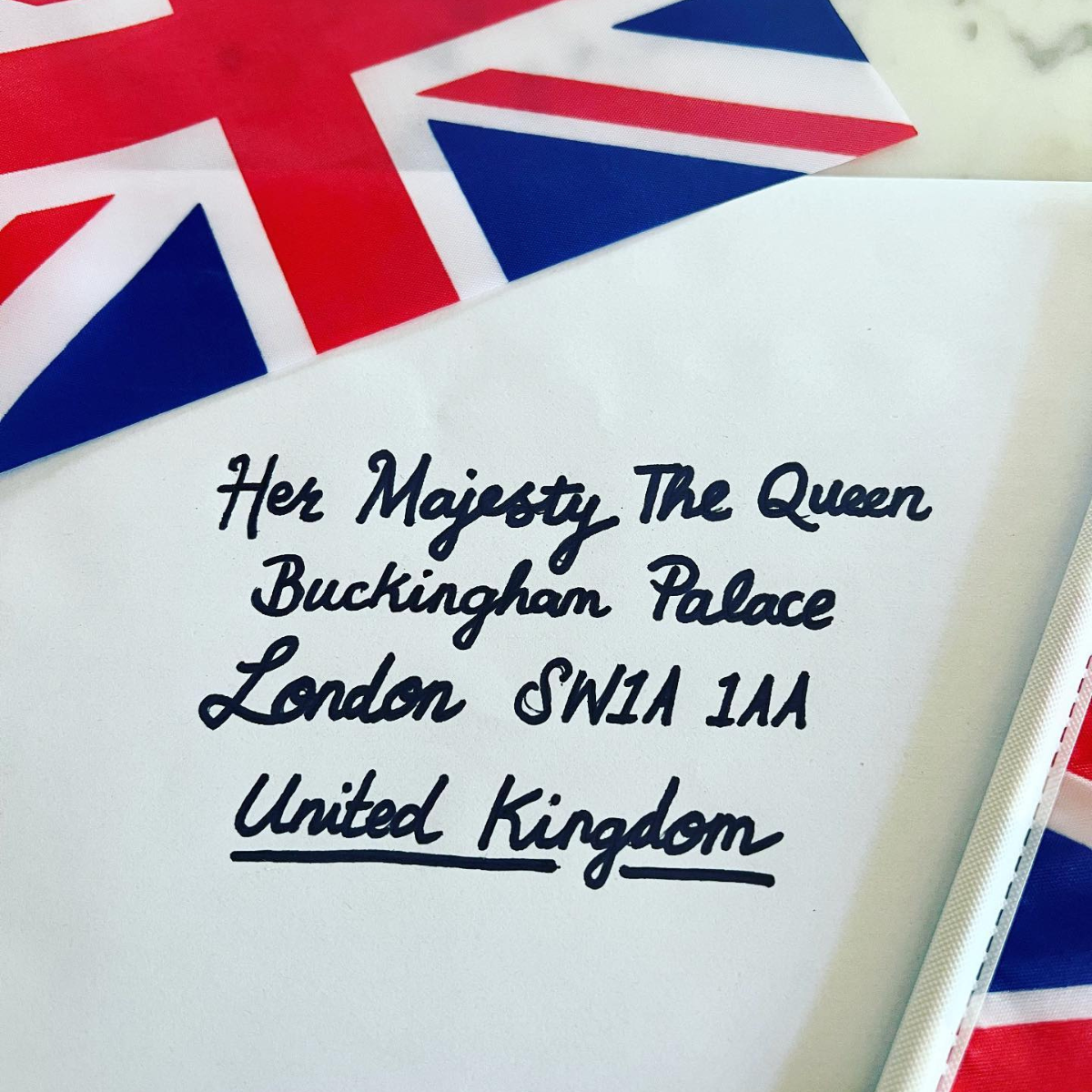 Just before the 4th of July holiday weekend Dee received a letter with a Royal Crest. She fondly remembers checking the mail and being in complete shock to see a letter addressed to her from Buckingham Palace. The letter was from Queen Elizabeth II's lady in waiting Lady Susan Husse who has been at the Queen's side for 62 years. Several portions of the letter were handwritten; the most important part was an invitation to send the quilt to Buckingham Palace. Watch the reveal video here.
In the past month Dee has been preparing for the quilt to arrive at Buckingham Palace. She recalls the specific instructions she was given including that the quilt package had to have British Postage. The quilt in recent weeks has been on display at various quilt shop locations in Tulsa and Dee herself has hosted a Quilt Show & Tell. With the help of her mum who still resides overseas the quilt will arrive in her hometown and be showcased in a local fabric shop that Dee and her family used to go to often. Then Dee's mum made the final preparations to send it directly to Buckingham Palace. Dee is unsure of what will happen to the quilt once it has passed the ornate gates of Buckingham Palace but she is hopeful it won't be the last time she sees it.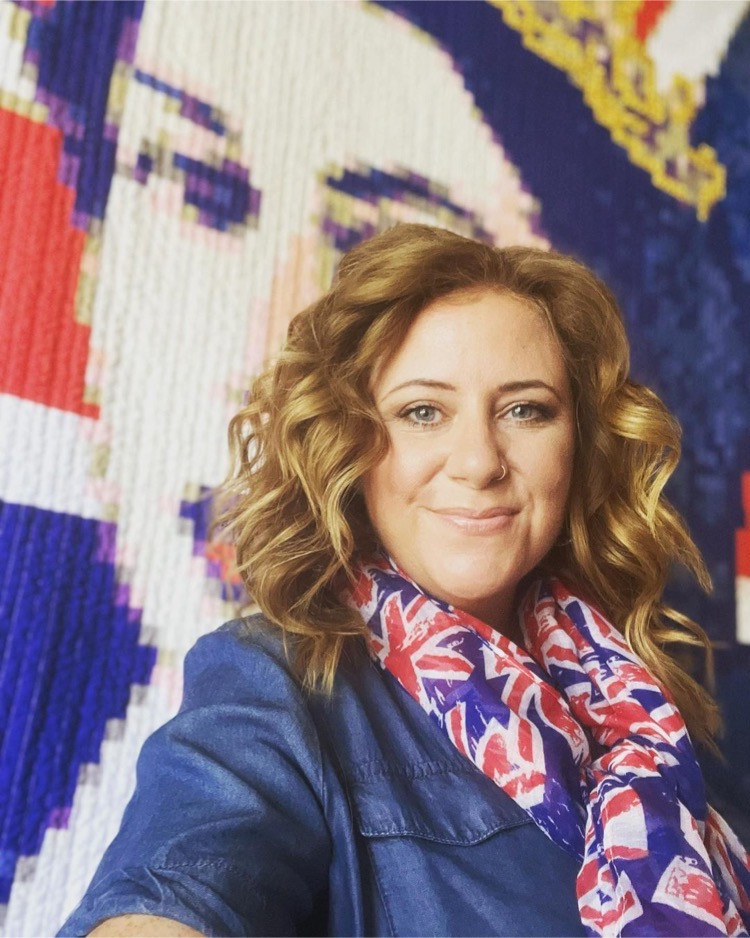 Dee decided soon after finishing the Queen Elizabeth II pixel quilt that she would like to have a quilt of her own to cherish. So she recreated the Queen's quilt and it proudly hangs in her sewing room. We asked Dee to share more about why she focuses on pixel quilts versus other styles of quilts. She told us that after 14 years of learning more traditional quilting techniques she found herself looking to revisit a type of quilting that she thought was once not enjoyable. Today she describes the process of pixel quilts as both calming and therapeutic. She says the surprises are minimal and you go in knowing what to expect. Her process begins with selecting several photos of the individuals. She runs them through not one but two quilting software programs. The first program is used to produce a pattern and the second is to add detail. The process can take hours and sometimes photos don't turn out the best but she takes extra time making sure the face of the subject/recipient has the correct shading.
After receiving the letter from the Palace in July 2022 the quilt spent 2 weeks on display in Dee's local quilt store in Tulsa Oklahoma where people traveled from surrounding states to come and see the quilt that would be soon going to Buckingham Palace. From there it was mailed to Dee's Mum in Hampshire England (as the Palace had specifically requested the quilt be sent by 'Royal Mail' from within the UK) where it was displayed in a craft shop in Dee's hometown of Fareham. Just last week it was posted to Buckingham Palace and Dee had confirmation that it arrived the day after Queen Elizabeth's death. Unsurprisingly Dee and her family are heartbroken. Dee comments 'I have no idea what will become of the Queens quilt now I can only hope that it finds it way to King Charles and brings him some comfort in his Mothers passing.'
Dee looks forward to continuing her 12 Months – 12 Inspiring Women project and the creative process that comes with it. To find out more about Dee and her quilting adventures and a behind-the-scenes look at what she is currently working on check out her website https://pixelquilts.com follow her on Instagram and TikTok and be sure to follow Dee's maker journey for more updates on the Queen Elizabeth II pixel quilt.