If you've shied away from machine quilting your own quilts let this be the year you overcome your fear! A twist on wavy line quilting the wavy line grid quilting pattern is perfect for beginners and provides a fun organic texture to complement a variety of pieced quilts.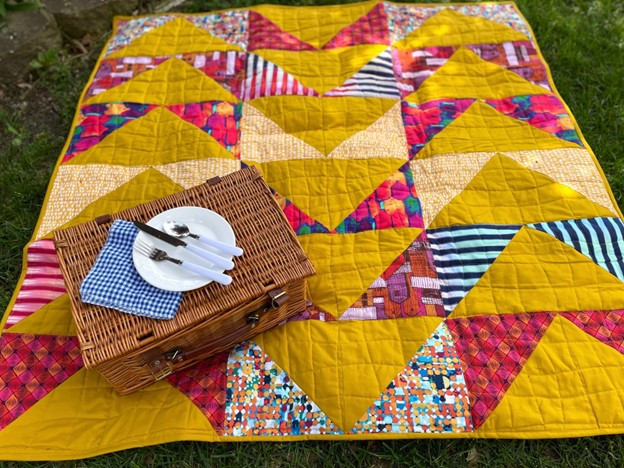 What makes a quilting pattern beginner-friendly? You want to choose a design that's relatively quick to quilt that doesn't need to line up precisely with the seams. As you can see in this photo of the Flying Geese Picnic Quilt there are horizontal and vertical wavy lines. This draws the eye away from the seams (in case your patchwork doesn't line up perfectly) and creates fluid motion and texture across the quilt!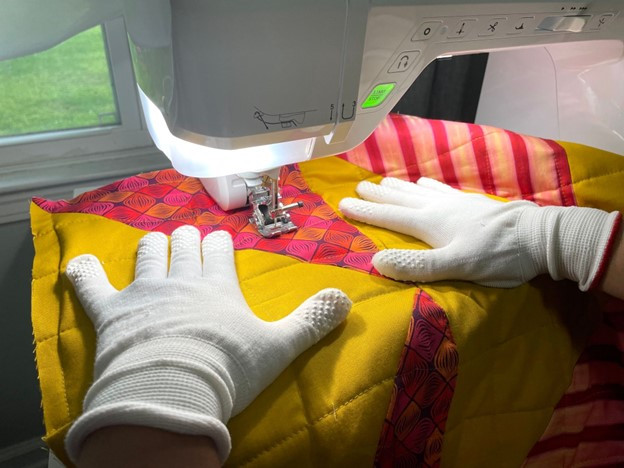 Tips for Wavy Line Grid Quilting
Avoid ripples and bumps in your quilting! Use a walking foot or Baby Lock Digital Dual Feed Foot to quilt the layers of fabric together evenly.
Wear quilting gloves! These will improve your grip on the quilt sandwich as you guide the project through the sewing machine.
Beginning at the top-center of your quilt sew a few stitches then backstitch. Continue forward to sew a vertical curving line that waves through the center seam passing to the left and the right of it then to the left again. Backstitch at the end of this row and cut the threads. Starting at the top of the quilt again quilt a second wavy line running vertically a few inches to the left or right of your original line. Continue until all of the vertical wavy lines are quilted.
Now flip the quilt 90 degrees! Starting in the center of the project and moving outward begin quilting wavy lines across the project to make the grid design.
Try to keep the lines moving organically and roughly the same width apart. I like to keep them no wider than 2" apart (and even smaller on pillows and other petite projects). If you're not sure how dense you want the quilting you can quilt wider lines and choose to fill in more later.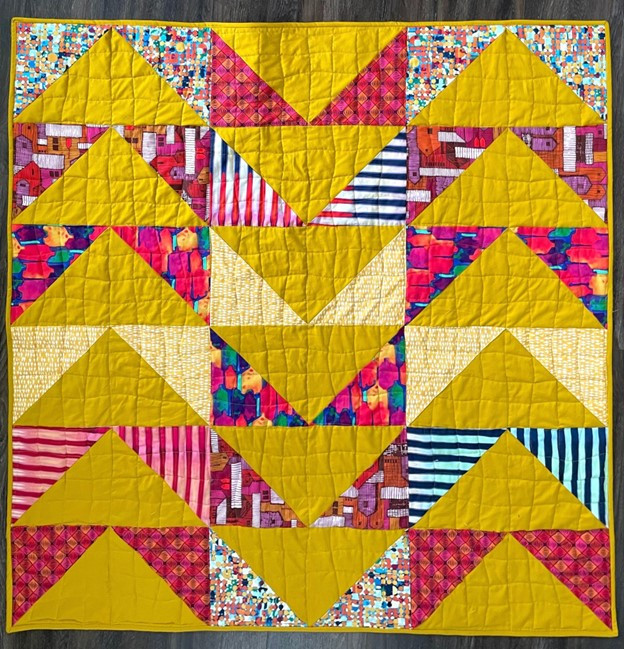 And there you have it! Wavy line quilting is a great machine quilting pattern for beginners and the wavy line grid quilting pattern adds a fun modern texture to a variety of projects. What's your favorite machine quilting pattern?
Check out more sewing tips and tricks from Lindsay Sews here.
Learn more about Baby Lock quilting machines here.